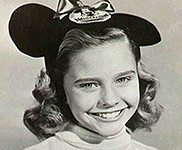 Taking a short break from all the goings on at my home front to write a short tribute to a truly nice lady who lost her battle with cancer today. I never met her, but she was a major part of my childhood, and as history would have it, we are the same age.
The boys love Annette and we all knew why, but I identified with Cheryl. There was something about her warm smile that said she would have been a best friend if she had only lived next door. In a way, she did live next door as I watched her every single afternoon.
Disneyland opened in 1955 and being a native, I got there in the first month and at least once a year every year since.
The Mickey Mouse Club
debuted the same year and I was an 11 year old fan. To this day, I know the "Alma Mater" song above. All beautiful things come to an end, but it is with a speacial sadness that I say goodbye to the girl I never met, but loved.